SELFREGULATION WITH WINGBEL
Our web-based tool (wingbel) allows to visualize and analyze psychosocial processes of individuals. By specific analyzes the relevant psychosocial processes will be identified and reflected in time. 
An effective learning process is made possible with the web-based support trough wingbel. This creates an added value for users in the form of increased self-regulation, self-efficacy, safety, motivation, self-awareness and satisfaction. Positive behavioral changes will be purposeful initiated and stabilized.
The flexibility of wingbel allows us to visualize psychosocial processes in each counseling setting. 
We guide you professionally in the introduction of wingbel, so that you can consult effectively and save costs.
 

 

 

 

 

 

 

 

 

 

life- and job satisfaction

 

 

 

 

 

 

 

 

 

 
____________________________________________________
Positive effects for the coach / consultant 
The coach / consultant can get an idea of the subjective perception of the coachee.
 additional certainty in the consulting setting
 changes in the process could easily be identified
 well-directed chances to intervene
 the confidence will be strengthened
 effectiveness of the intervention is visible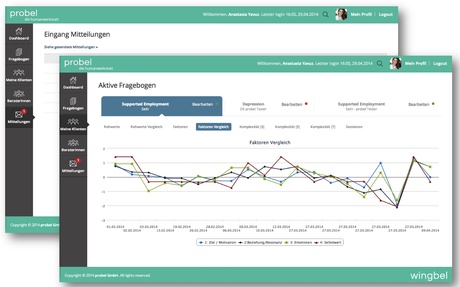 Positive effects for the employee / coachee 
Activates the daily self-reflection with questions and diary entries (self-monitoring), this leads to:
 work and life satisfaction
 professional achievement and mental health
 occupational success and occupational self-clarification
 improvement of action control
 increasing the self-monitoring
 focusing attentiveness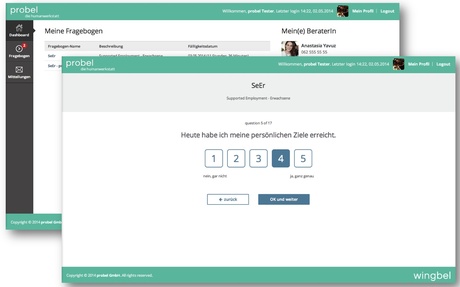 ____________________________________________________
| | |
| --- | --- |
|   |   |
| |   |
| |   |
|   |   |
| | |
| --- | --- |
| |   |
| |   |
| |   |
|   |   |
contact us and see how wingbel can fulfill its services to you!